X2 is an office complex in the IT hub of Kolkata, Salt Lake sector V. Towering at 16 floors, it stands out amongst IT buildings for its features like a large puzzle car park which ensures highly efficient space planning and amenities and structure conforming to green building norms.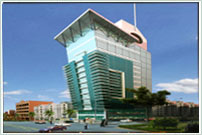 It is equipped with four super fast glass lifts and a separate office for a very modern IBMS (Intelligent Building Management System) consisting of PA systems, CCTV security system, Fire fighting system etc. Overlooking the East Kolkata Wet lands, the view of the huge water bodies from the higher floors is picturesque.

Puzzle Car Park.
Four Super Fast Glass Lifts.
PA Systems.
CCTV Security System.
Fire Fighting System.
Puzzle car parking-: A unique parking system where a combination of lateral and vertical movement of platforms / pallets takes place to accommodate maximum number of cars within the space available. Some of the salient features are:
Accommodates maximum cars in minimum space.
Safety for both car and the driver.
Customized parking solution.
Faster parking and retrieval.